Whoops, I don't know how the time flew by so fast.  I wanted to do a Father's Day post for my Dad.  It's only fair since I did one for my Mom.  My Dad is used to me being late with most things; birthdays, anniversaries, etc.,… So, in true form, here is my belated Father's Day post.
Saving the environment is a big deal these days.  My Dad was way ahead of his time.  When I was growing up, he was a big recycler before it was popular.  I learned how to take care of the environment and to recycle from my father.  I remember us saving cans, glass jars, and cardboard in boxes in the garage so we could take it to the recycling center.  We saved up for awhile so that we had a big truck load to take in.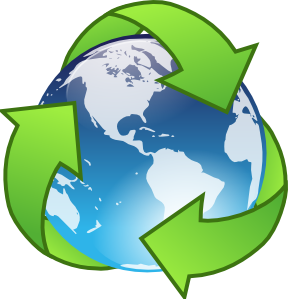 I remember being so excited that the recycling center would take our used stuff and give us money.  We certainly didn't make much money but we did a great job helping out the planet.  There were times we would walk along the busy road by our house and pick up cans to take in to the recycling center.  I knew we were cleaning up the environment but the money was a good bonus.
My Dad was not into wasting something that could be recycled.  When I was in junior and senior high, we had a big garden at our house.   My father was big into composting and had  composting worms in large garbage cans out in our backyard.  We had to put all of our food waste into a bucket that would get transferred into the composting bins.  The worms loved it and in turn made amazingly healthy soil.  My brother and I never got in trouble when we were young (perfect angels right Mom and Dad?) but I do remember my dad yelling , "Who put the apple core in the garbage, it belongs in the recycling?!?!"  To this day I think my brother eats the whole apple (core and all) so there is nothing to get rid of.
My Dad taught me to respect others and to respect the environment.  I learned that we all  need to do our part to keep the area we live in clean.  These days most areas have containers for recycling that are picked up in front of the house.  Very convenient.  We never had that so my Dad had to go out of his way to get all of our recycables to the recycling center.  The small amount of money we got from recycling was never the issue, recyling was just something important that we just did.   My Dad taught me so well that my poor husband has to hear "Who put the can in the garbage, it needs to be recycled?!"
I feel very fortunate to have the father I do.  He is an amazing man.  He is very kind, loving, supportive and funny.  I am very thankful for the lessons he taught me and the world is a better place because he is in it.
I love you Dad!
Yours In Health!
Dr. Wendy