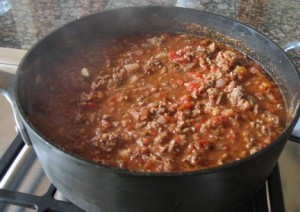 It is cold here in Olympia, Washington.  It is supposed to be 39 degrees tonight and, for a person who loves the heat, I am freezing.  I love soup when it is cold, which means I eat a lot of soup from October through June.  I love my homemade Paleo Chili.  I thought I would share this recipe if you needed something warm too.
I do not like beans and I try to stay away from grains so this soup is perfect for me.  My billing specialist in my office is a vegan and she makes this chili without the meat but adds kidney beans.  Either way it works.
1-2 pounds of grass fed beef ground and cooked
1 large can of crushed tomatoes
1 large can of diced tomatoes
1 large container of vegetable broth (I use Pacific brand)
1 medium zucchini shredded
1 large carrot shredded
2 celery stalks diced
1 small onion diced
1 large green pepper diced
3 leafs of kale cut up
3 heaping tablespoons of chili powder
1-2 teaspoons of cayenne powder
salt and pepper
Mix all of this together in a LARGE pot as this makes enough for an army.  Simmer for 1 hour. 
As you may have noticed, I "hide" a lot of vegetables in my chili.  I am always looking for ways to get my recommended servings of vegetables.  I will eat this all week, sometimes for lunch and dinner.  Yes I do love this chili.
If you don't want the meat omit it and add 1 large can of kidney beans.
I hope you like this as much as I do.  Enjoy!
Dr. Wendy