This is the time of the year where everybody and their brother (and sister) wants to give you the excess Zucchini they have grown in their garden. You maybe tempted to decline their gift…but don't! I have two recipes that will want to make you eat Zucchini everyday!
Sauteed Zucchini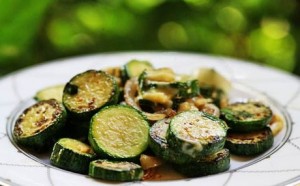 1. Cut Zucchini into large slices
2. Saute' in Coconut Oil until slightly soft
3. Sprinkle with fresh Parmesan Cheese
Paleo Zucchini Bread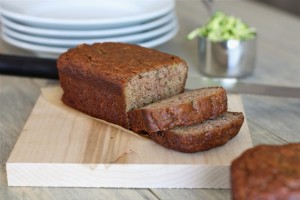 Ingredients:
1 1/2 cups of almond flour
1 1/2 teaspoons of baking soda
1/2 teaspoon of salt
1 teaspoon of vanilla
1 cup of grated organic Zucchini with the excess water squeezed out
3 organic eggs
3 tablespoons of maple syrup
1 organic banana mashed
1 tablespoon of Coconut Oil, melted
Instructions
1. Preheat oven to 350 degrees and grease two mini bread loaf pans.
2. Combine dry ingredients in a small bowl and set aside.
3. Combine wet ingredients (besides Zucchini) with a mixer and beat on medium speed for about 2 minutes.
4. Add Zucchini and mix until well combined.
5. Add dry ingredients into wet and mix thoroughly.
6. Pour batter into loaf pans.
7. Bake for 30 – 35 minutes until a toothpick comes out clean.
8. Remove from oven and let cool for 10 minutes.
9. Transfer bread out of loaf pan and let it finish cooling on a wire rack.
Enjoy!
Yours In Health!
Dr. Wendy